The Griselda movement is strong. While Westside Gunn is prepping the release of a new project and Benny The Butcher is promoting the fan favorite single 'Johnny P's Caddy' with J. Cole from the upcoming album Tana talk 4 (March 11th), Conway The Machine is set to release his new album God Don't Make Mistakes tonight, Feb. 25th.
This release is a little different for the Buffalo rapper, real name Demond Price, as it will mark his debut on Eminem's label, Shady Records. The album has been in the making for a while but stuff on the backend kept delaying the schedule. The 12 track album is a concise body of work and unlike previous times, it features a few big names as guests, including Lil Wayne, T.I. and Rick Ross.
Conway also made sure he ventured out a bit with the production as he recruited iconic names like Hit-Boy, J.U.S.T.I.C.E League and Bink! among others to help him craft the sound on this album. Following the release of his pre-album mixtape Greetings Earthlings, Conway spoke with us about creation of his new album, the variety in production, possibility of him landing a feature on Kanye West's forthcoming album DONDA 2, releasing on a major label like Shady Records, and more.
"We did a lot together, we did a lot of joints. So hopefully another one lands on DONDA 2, but you know, even if not, I'm just thankful to even be a part of the first one and being able to just work with Kanye and being able to just say that's the homie," he said about his relationship with Kanye. Conway also revealed that he's working with Alchemist on a new project, the follow up to their 2020 EP, Lulu. Check our our chat below.
HHNM: Thanks for taking out the time. I know you've been busy on the press run.
Conway The Machine: Oh man, it's no problem man, thank you. It's good to chop it up, it's good to talk.
Absolutely. Big fan! Congrats on the new album. I know it's still not out but I've had the album for a while and I really, really like it. Very impressive, especially the variety in production this time. I really, really like how you elevated on the production front. The way it starts and the way it ends with the title track, amazing. So congrats on that.
Thank you, thank you.
Definitely, without bias, one of the best albums so far this year.
Oh man! Thank you, man. That mean a lot to me to hear that.
I wanted to ask you, this is your Shady Records debut obviously, but what's the biggest difference that you find dropping independent versus on a label like Shady which is distributed by a major.
Urm, I don't know, man. Indie is pretty much, you know, just a lot of hard work. You just gotta be around, just gotta be available and just be on your grind, you know what I'm saying? You're working around the clock and kinda getting it together and you gotta be on your toes, man. Just being on a major, especially a major like Shady and Interscope and stuff, that's just dope too 'cause your body of work is getting the maximum force behind it, you know what I'm saying?
Right. I believe this album finishes your contractual obligation with Shady so are you planning to remain indie or are you also open to go to another major? What are you thinking?
Yeah I'm open to whatever. I'm pretty much open to whatever. I'm just excited to see what's the next chapter for Conway, you know what I mean? What's next. What's my next play? What's my next move? Right now I ain't even thinking about that. I'm just thinking about, you know, dropping this album and just taking over, you know what I'm saying? Making sure I make an impact the way I see myself making.
View this post on Instagram
With this album, how much involvement did Shady executives have, specifically Paul and Em. Did they have a lot of involvement as far as advising what you should do or who you should collab with and stuff like that?
Nah, nah, they didn't really have no input like that. I kinda, like, sat in the driving seat on this one myself. I got the benefit of being, I would say a more established artist, you know what I'm saying? I already got my feet wet in the game so it's like, I already built relationships with a lot of different artists so it was easy for me to just get the collabs. I pretty much know my direction and I know what my sound is… it's dope that I don't got nobody stepping in and tryna tinker with what I'm creating.
This album has been done for a while, right? Were you putting finishing touches on it? I remember it got delayed by a couple of months initially.
Yeah that's really what it was. There was a lot of different delays and stuff that was holding up the album from release, things behind the scenes, getting some stuff cleared and stuff like that. At the same time, I was still adding records to it, taking records off it. You know, just shaping it, moulding it, making it perfect.
Gotcha. I really like the production, as I said, the variety in production this time around. Hit-Boy, Bink! and J.U.S.T.I.C.E. League, they brought in a good mix this time with your other go-to producers. Was that a conscious decision to do something different?
Nah, not really. I been kinda like… 'cause I just did a project, La Maquina and stuff and I been reaching out and I been doing work with a lot of other different type of producers; producers I never worked with, up and coming, more established and known, decorated producers, you know what I'm saying? I just like a good beat, man. I just want a raw ass beat that I can just go crazy over that just take me there. It's just dope when I get that so it was good working with, like Bink! and you know, Hit-Boy, I worked with him before, that's always dope. Cosmo, you know… it's just dope man. Working with J.U.S.T.I.C.E. League, like this was all new for me but it was dope we was able to have that good chemistry and the sh*t came off fire.
For sure. I really like your Drumwork Music artists, both 7xveTheGenius and Jae Skeese, I think they're really talented.
Thank you.
Your people have been sending me music and I always have good things to say about them. What kind of advice do you help them with as a senior artist?
Urm, man. Just stay hungry and just, you know, don't let nothing stop you or hold you back, man. Go grind and once you get your shot man, go crazy. That's pretty much my advice. That's kinda what we did. Once we got an opportunity, me and Westside, to start getting a little bit noticed, like we would drop two tapes a month, we would drop three albums a month, stuff like that. We would drop a song every Friday, you know? Just keep people fans and that fan base gon' grow and it should take you far. Just gotta keep that hunger and that drive, you know what I'm saying? You gotta stay hungry.
Yep, that's true. I heard that 'Jail' freestyle that you did. You were rapping about having a better relationship with Kanye than Em, that was very interesting. And being more mindful of what you say in interviews. Can we expect to hear you on DONDA 2? Is that a possibility?
I hope so, hopefully. We did a lot together, we did a lot of joints. So hopefully another one lands on DONDA 2, but you know, even if not, I'm just thankful to even be a part of the first one and being able to just work with Kanye and being able to just say that's the homie. That's just dope to me.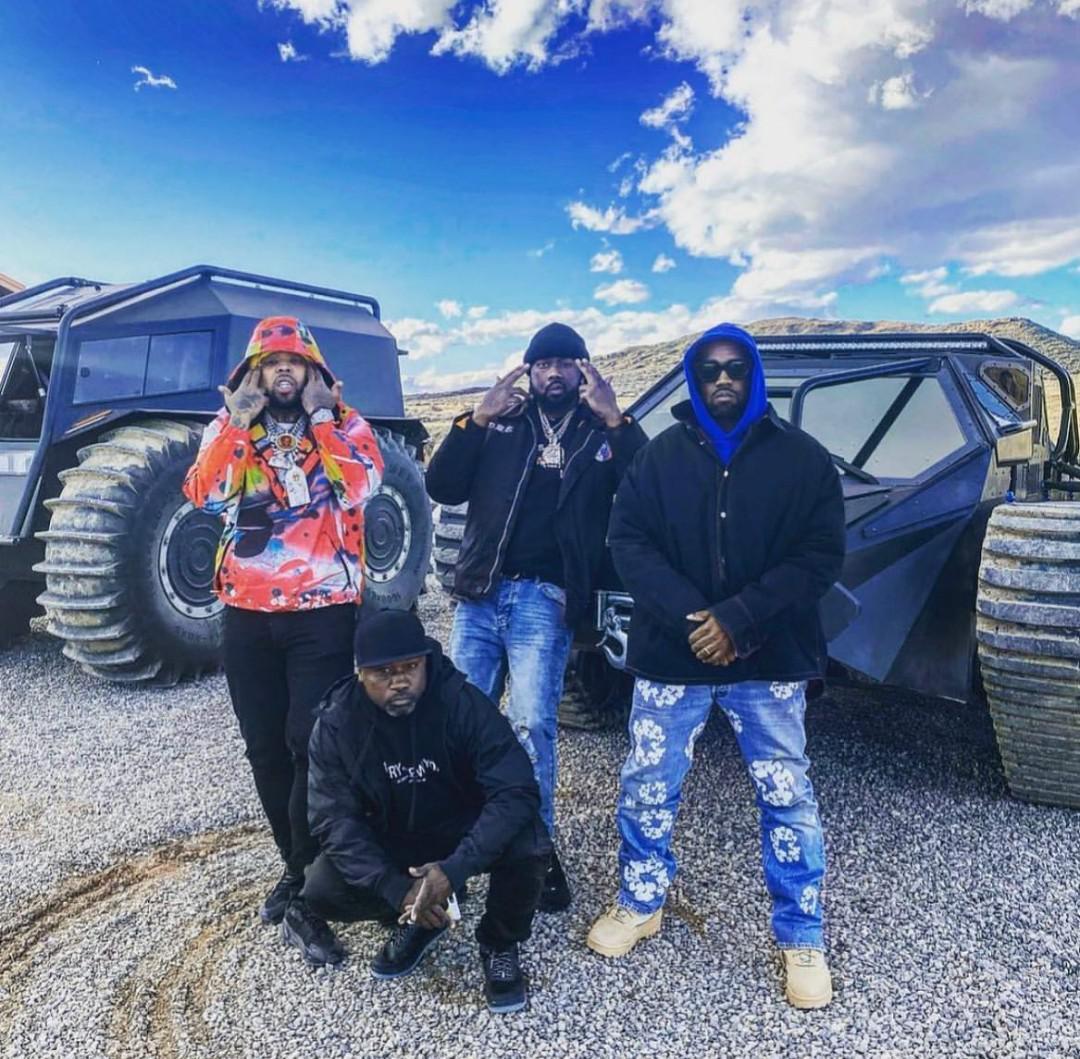 Absolutely. You dropped a pre-album mixtape, that's like the old times (laughs)
(Laughs) Yeah, yeah.
Even like the G-Unit run, they used to drop mixtapes always before their albums. What was the thought behind that strategy? Why did you decide to do that?
Just what you said. Like, I wanted to kinda like, just take people back and just give that nostalgic feel when mixtapes and stuff was dropping. The way it just felt when you popped that CD in your CD player back in the day and stuff. It just felt real good that people received it like that and accepted it and they enjoying it, man. That was just something dope I wanted to do. Just something different. I just wanted to build some excitement for the release that I'm about to do so it was dope that people fu**ed with it and accepted it.
For sure. Hip-Hop had a big win at the Super Bowl. What were your thoughts on that and the performances? It's so good for the culture.
Yeah, it felt good for the culture, man. It was dope just seeing the love that artists like that, Dre and Snoop and 50 and them still get. Like I'm sure that even felt good for them, to see like 'man, we still gere', like, 'they love us out here'. They impacted us so much, you know what I'm saying, with their music and their whole careers and their lives. Kendrick was fire. Mary killed it as always. The 50 sh*t was dope. That was definitely big for the culture to see us like that on the Super Bowl and that platform, that's like the tallest order right there, man. That sh*t was dope. That was legendary. That was one for the books right there.
View this post on Instagram
Yeah. Very, very global too. All the artists are very, very big globally. It's crazy how global the G-Unit, Aftermath, Shady era artists are, they were being heard in countries where they don't even talk English.
Right! Exactly, exactly, man. Monumental, monumental. Super inspiring.
This is my last one. What's next for Conway after this album drops? I know you're actually going on a tour, you have a tour planned as well, right?
Yeah. We got the Love Will Get You Killed Tour. We gotta finish that up, we going to a couple different countries. I'm doing another project with Alchemist, we gon' lock in and do some stuff. You know… who knows after that, you know what I'm saying? Definitely got another album coming out too. I been doing business, kicking it with Empire too. So I got some stuff I gotta do with Empire. I got some albums coming up. It's gonna be a big year for The Machine. Big year, hopefully. God willing.
So more music this year for sure after this one.
Absolutely, yes. Yep!