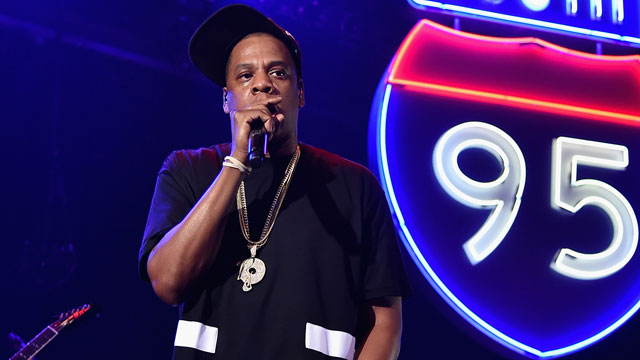 It speaks volumes about someones career when their B-Side catalogue is just as solid as their A-Side. When their deep cuts are just as prominent as their mainstream hits. This was the case for Jay-Z's latest musical experience. What was originally supposed to be a one night show evolved into a two night event in which Jay ran through the songs you don't usually hear him perform. This wasn't just an ordinary Jay-Z concert. We didn't hear the songs that brought him immense fame in mainstream. There was no "Big Pimpin", no "Hard Knock Life". He was digging deep into the crates for these performances. Many of us have been waiting for the moment that we could see Hov perform a lot of these songs. He even brought a few homies out to perform, which made the event that much more special.
I was Roc'd out the whole weekend. I watched the first night from my apartment via the Tidal live stream (watch the full show here) and I was blessed to be able to go to the final show last night. This was a big deal to me. The Roc-A-Fella era molded my entire being. Their catalogue sculpted principles and ideals that I abide by today. They helped me get through some of the roughest time periods in my life to date. To be able to see Jay, and perhaps the rest of the Roc, perform these tracks that I've held dear for so long was monumental.
The first thing I noticed when arriving at the venue was the vast scale of individuals that came to see the show. There were so many different races, cultures, and lifestyles that came together to experience this event. In my section alone there were a few white folk who knew their fair share of B-Sides, two black women who knew almost every song and exemplified unmatched energy, as well as Black / Hispanic dudes who were vibing out much like myself. These are people whom I've never seen before in my life, but once the show started, we became one through the music. All of us looking in the direction of the I95 South sign in anticipation. It was a beautiful sight.
The lights dim, "Hova" chants begin to disseminate throughout the venue. Queue "The Dynasty Intro". Jay raps off stage as the band plays, setting the tone for an epic night. The show begins, and I am giddy as all hell. Let's be real, a show where Jay performs "Pump It Up Freestyle", "So Ghetto", "It's Like That", "In My Lifetime Remix", has to be acknowledged as the best concert in recent memory. You never heard him perform these songs in the same setlist. The energy in the building was insane. 1500 or Nothin' alongside Young Guru and Just Blaze on the turn tables were truly rocking the stage. Hov's transitions and timing helped weave this seemingly endless tapestry of classic records. The records flowed into the other flawlessly. You would've thought they were going to burn the stage down all night. Let's not mention when he went into the "Grammy Family Freestyle". I looked around the venue and openly said, "Y'all don't know nothing about this." as I spat the verse word for word. It's a prominent song that many of us hold as one of the greatest freestyles ever, and here he was unexpectedly performing it. It was one of those dream performances you wish would occur, and it happened. That moment was so dope to me.
The second night stood very true to the first performance. There were only a few exceptions. The Jeezy features from the night before were absent from the second performance. He also didn't do the whole "Encore" routine. He acknowledged that he usually does it as a part of the show, but the energy was so great that he just wanted to continue the performance. He also performed "Sweet", as well as address the Chinx situation. We also got to hear B.Sig's verse on "What We Do". Let's transition from there.