Royce 5'9″ has gone through many changes in his career in the last few years. From beating alcoholism to forming a duo with Eminem and working with 3 other artists in a super group, he's pretty much done it all. But being sober is a wonderful thing and in 2016, the gifted emcee finds himself stronger and better than ever, ending up releasing one of his best albums to date.
Layers is out now and getting a great reaction from fans who are appreciating the Detroit native's raw lyricism and introspective approach to his music.
Yesterday, on the day when the greatest musician, Prince passed away, we chatted with Royce about his new album, why he got so personal with his music after all these years, possibility of another Bad Meet Evil project, whether he has ever encouraged Eminem to use Twitter, possibility of a collaborative project with Black Thought, his next album The Book of Ryan, status of next Slaughterhouse album and more.
Hi Royce, thanks a lot for taking out the time to chat with us. We're going through some pretty terrible news of the God, Prince passing away. It's very hard to digest for all of us.
Definitely man, I feel the same way. One of those days.
How has the reaction to 'Layers' been so far? Personally, I really enjoyed it. Your bars have always been top notch but one thing you stepped up this time according to me was the production.
Thanks, I appreciate that. The reception has been really good. Obviously, I'm going off of what I see on Twitter and the phone calls I get from my peers, my friends, my associates, and people I see out and about everyday. I really appreciate the love. I'm going through some changes in my career and life and it's great to have people support that.
What made you wait so many years to get so open about your personal life?
I think it was probably something to do with being sober. When I got sober, a lot of memories and stuff started hitting me and I started feeling the need to be introspective and let some of these thoughts and memories out. It felt good to let them out. It was similar to seeing a therapist, like I hit the studio and pull a beat up and start to rap about that kinda stuff.
Do you worry about album sales at this point of your career?
I don't worry about them. I definitely try to stay aware of what they are and try to always keep building on it. I think album sales are somewhat of an indicator but I don't think they tell the whole story. It's important to be aware so you can build your brand properly. Album sales just indicate one aspect of your journey, I don't think they make up the whole thing. I don't worry about them because there's so many more elements that go into the whole process than just actual sales. Like how many people will show up to your shows, how many are streaming the music. And at this point in my life, everything I have to say, I'm more concerned about as many people hearing it as possible. No matter how they get their hands on the music, I just wanna spread the word. That's my main concern — people getting the message and I worry about younger artists hearing it and try to not make the same mistakes that I made as a young artist. That's the only thing I'm concerned about.
Right. One thing that comes to my mind is — you went indie with this album but you have other situations with major labels. Why didn't you go with someone like Shady Records, considering they're like family to you?
Well, it's not like I didn't want to go that route. It's just something that never came up. I think because we already got Slaughterhouse there at Shady, I never had a conversation with Marshall or Paul about my solo album. I never really thought about it since we have already have Slaughterhouse over there and we're still actively doing that. I kinda like moving on my own accord. It wasn't like 'I got this album and I'm not taking it to Shady'.
There is a theory some people believe that rappers make better music when they are on drugs or are high. But you've proved the opposite with your run. What do you think about that?
Well yeah, I can understand why that's a thing, I can understand why that's said. As a younger artist, you spend all these years making yourself mentally dependent on a substance to perform. It's real easy to trick yourself into thinking that and once people start spreading the word, that becomes the general consensus. But until someone stands up and dispels that, people are always going to think that. But I know plenty, I mean plenty of sober emcees. I know plenty of rappers who don't drink, smoke or anything. And there's a lot of them who don't drink or smoke in the studio but they might do it in the club or something like that. These people are wired like normal people and know how to do it in moderation. Drinking isn't against the law as long as you're an adult and know how to do it responsibly. But unfortunately, people like myself, addicts, born addicts, naturally wired addicts, we don't know the concept of moderation. And that's what it boils down to when we're in the studio. We start to think that we can't do anything without it. You gotta learn how to curb it. It took me about 2 years to get completely dry out to the point where I wasn't thinking about liquor in the studio anymore. It takes time to learn how to go in there to stay patient and keep those thoughts off.
Absolutely. You're quite active on social media, particularly Twitter. But your good friend Eminem doesn't use it at all. Have you ever spoken to him about it and encouraged him to use social media?
[Laughs] Nah, I have never spoken to him about it. I don't even see why he even needs to. It's a preference thing. I have fun doing it, it helps me a lot to promote my stuff on Twitter, Instagram etc. Because I think no one's going to promote me like me that's why I spend a lot of time on it to stay in tune with what's going on. But I'm also not one of the biggest rappers that ever existed. If I'm on Eminem's level, then we're talking about something else. Maybe I won't even be interested in using Twitter. But nah, I never told him like 'yo, you should get on Twitter!'.
Just the thought of imagining Em on Twitter is crazy. The app will crash that day.
[Laughs] Yeah, yeah. It's probably a good idea that's he's not on Twitter. He will say the most insane things you've ever read in your life because he is very, very crazy. People think that he's all serious now but that's so far from the truth.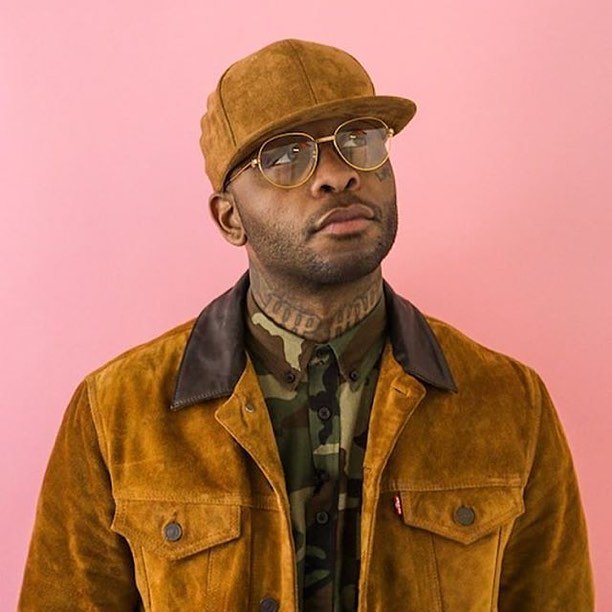 I heard talks about you and Black Thought collaborating on a project soon. Is that true?
Good question. You know what, we've been working. We've been doing a lot of work together, having a lot of conversations. But hasn't materialized into anything worth talking about much. The thing about Thought is, he's one of the emcees I look up to, to a level where I want to follow the groundwork he's been laying over the years which is making age-appropriate music. And age both gracefully and lyrically. Not chase the trends and keep on being a continuation of what you've been and continue to make great music. Like don't be afraid to grow and get a little bit old with age. I respect him for celebrating how long he's been around and make that into a good thing. I respect Black Thought for that. I stand with artists for following the same principles as me.
Fans really want to know if there will ever be another Bad Meets Evil project.
I mean that's always a possibility. We do have a few songs lying around that we did sometime back. But right now, I'm like super swamped rolling out my projects and fixing the other projects I'm a part of that I wanna see happening within a year's time. If at some point me and Marshall end up back in the studio, and we sit next to each other and we got some time on our hands, I can definitely see it happening. I'm always open to that possibility but we haven't discussed it at all.
You mentioned in your Breakfast Club interview that there will be another PRhyme album. When can we expect that part 2 and will it be with Adrian Younge again?
We're working on it right now. Actually Preem is going to pull from a new source now. Now the new source he's going to pull it from will be Antman Wonder. Remember that name, Antman Wonder. That's bascially the concept of PRhyme. Everytime we come out, we're gonna pull from a different source and everytime, it will be all one source for the entire album. We're looking at December for it, hopefully we can have it out for you guys by December.
The first one was incredible, I still play it often. Why did you go with the strategy of releasing the album, followed by instrumentals and then the deluxe version one year later? Was it to increase its life cycle?
You know what, we were still recording. I usually never stop recording. When we were doing the PRhyme album, a lot of ideas I had like MF Doom & Joey Bada$$ started happening after we had already turned the album in. So we were looking at something cool to do while still tying it to the original concept. We ended up saving the music and released it exactly a year after the original album, kinda like an anniversary thing.
What kind of sound can we expect from your next album, The Book of Ryan?
It's introspective. It goes deep into my childhood, that's all I have for you right now. It's definitely gonna be a reintroduction to me and give you real glimpse into what made me the man I am today. It's gonna be a good journey.
And is the Slaughterhouse album still set to drop this year?
We don't have a release date yet but we definitely have a full body of work done. We gonna go in after I finish what I'm rolling out right now and do some minor tweaks. We're gonna try to put it out hopefully soon but we haven't talked release dates yet.
I see. Ok one last question and I feel crazy asking this today but we do this with everyone we interview here at Hip Hop N More: Prince or Micheal Jackson and why?
You know what man, it's very very difficult for me to choose. I couldn't even pick as a kid. I did have the Michael Jackson 'Thriller' jacket available in my household. My cousin had one, he came over and let me borrow it. Obviously, I could never afford one. He end up leaving it and let me have it. I defintiely wore it. But Prince's music and Michael Jackson's music, they both got played the same amount. I don't think I played one more than the other. I don't think I played Thriller more than Purple Rain. I think I played both out till the cassette player broke. Very unfortunate that they both left us. It's a sad day today.