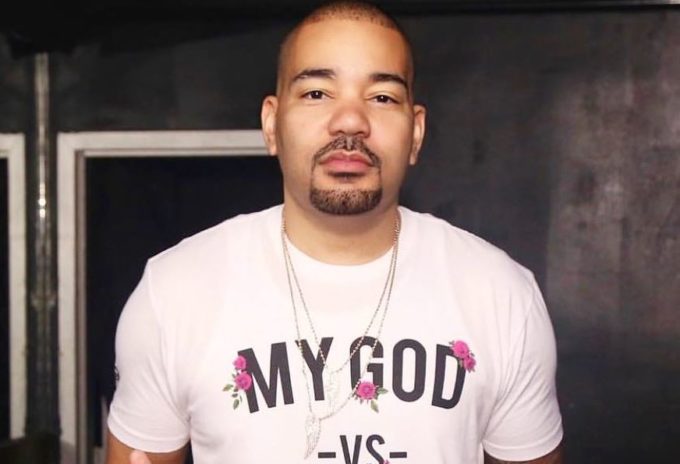 On June 28th, Remy Martin held the New York City regional finals for the fifth season of its Producer Series. Four producers — Point 1, RamZ, St. James the Producer, and N88 — competed with their best beats to decide who would move on to the Los Angeles season finale to compete for a chance at producing a track with Big Sean and Mustard. Hosted by The Breakfast Club's DJ Envy, with Mustard and Big Sean in attendance, St. James' tantalizing beats ultimately won over judges Kendall 'Sav' Freeman (VP of Maybach Music Group), Steve Carless (A&R, Universal Music Group) and Orlando Wharton (A&R, Atlantic Records).
Caught up in the celebration of young talent, Sean reflected on how two of the judges — Freeman and Carless — were some of the Detroit MC's earliest supporters. "When I got my deal at Def Jam, and I stepped in the building, and nobody knew who I was, all I had was my mixtapes out, they were the first two people I was freestyling for," Sean told the crowd. "They shot a video of me rapping that went viral that Kanye put on his blog."
Following the festivities, we sat down with Envy for an exclusive interview. The 20+ year DJ veteran spoke with us about how important an album is in today's music world, how the amount of music fans are receiving is bad for music, and reveals an upcoming collaboration between two generations of New York hip-hop.
You've been in the game for nearly two decades now. What keeps you going?
It's about reinventing yourself, making sure you stay hot. It's about making sure you stay true to the people. As you can see I just don't stop. This morning I was in Orlando with my kids for a vacation. I got on a plane, got here, do this event, and then get back on the plane back to Orlando. I'll be with them again tomorrow. Then tomorrow night I'm in Orlando doing a club. This Saturday,. I'm back with them vacationing. I don't stop. I enjoy it. I love it. I live it. It's not a job. It's my life. I just stay consistent. I always reinvent myself. I just do what I love.
What role do you think DJs like yourself play in the current era of streaming?
We have two roles. One is we follow the trends. Music can break so fast. Before, we got the music first, and we kind of broke it. Now, we all get the music at the same time, so we're pretty much just following what the kids like, what the people like, what we would like to hear. Every once in a while we get a chance to break an artist and get our hands on new music early. I just love the fact that we can get so much music. Before it was just a little bit, now we're getting so much of it. We're letting the people break it.
Do you think with so much music coming out it's hard to properly consume and appreciate music?
I think with so much music being released, it's really hurting music. The reason I say that is because you don't really, necessarily get to ride and break down an album. Before, you sat with an album the whole summer. I still listen to some Jay [-Z]'s stuff now where I'm like "damn, I just caught it." Music is turning over so fast that it's hard to continue on sitting with music. Nipsey's album was my album. I haven't heard Nipsey's album the whole year because it's so much other music coming out. It's difficult to stay up with everything that's out.
We're at the Remy Producers event and there's been a trend of one producer producing an entire album for artists. What would be your favorite artist/producer collaboration?
That's a good question. My favorite artist would be Jay[-Z]. There's two producers I'd love to hear Jay work with. I'd love to hear him work with Preemo [DJ Premier]. Preemo's like the king of the boombap. We got some of these on [Jay-Z's] last album, it had little bit of samples like Preemo. I loved the way they sound. I think the other would have to be a classic. I love the old Dr. Dre/Scott Storch sound. I love the 90 tempo with just the feeling and the soul. So it would have to be those two producers.
Do you think radio play is still important for artists, especially newer acts?
Radio is still important. You look at artists like Ella Mai. It took her record over a year to break. You look at artists like Derez Deshaun, the Hardaway record that took a while to break. Radio is still important because with streaming these records are flipping over so fast. Although a record might stream well, doesn't necessarily mean it'll do well on radio. So you still need the radio as the basis to continue to break these artists. There's a million and one streaming artists that do so well and you never see their face. Some of these streaming artists, if you walk by them, you wouldn't know who they are. But, radio gives them the face, the character, and the longevity.
You announced your album Just A Kid From Queens last year. What is the status of that?
We're still doing songs. I'll be honest with you, right now I don't know if an album really matters. For me, I like putting out songs. Whether it's a Fetty Wap song. Or it was a H.E.R. record. Or it was the Hadaway record. Next is a Fab[olous] and A Boogie record. What does an album mean nowadays? People are turning over music so fast I might just give you a single, and rock with that single, then another single There's no rush anymore.
What kind of collaborations do you already have done for your album?
I'm excited about this Fabolous/ A-Boogie record. It's over a Slick Rick sample. It's just a dope record. It's a good summertime record, so hopefully it'll be out in the next couple of weeks.
What do you think about this whole Flex/Kid Capri battle?
They're both two legends in the game. I think it's all fun, in my opinion. That's what it's about. It's a competition. I just like when it stays in that competition zone. When it goes out of competition into things that gets dirty and disgusting, that's when the shit gets whack. Kid Capri was one of the reasons I started DJ'ing. Flex is one reason why I wanted to do radio. They both have elements that I love, and I enjoy.
I hope they do get to battle. I would love to see that. They're both very competitive. They're both legends. They're both icons when it comes to DJ'ing the music. They both took two different routes. Flex took the radio route. Kid Capri took the club, and the tour route. They are both very successful, and I can't knock anything that they're doing. I took elements of everything they did, in my career. Whether it was Flex through radio. Whether it was Kid Capri in the club, and the way that he talks. I think they're both icons, and I would love to see that battle.
By: Keith Nelson Jr (@Jusaire)