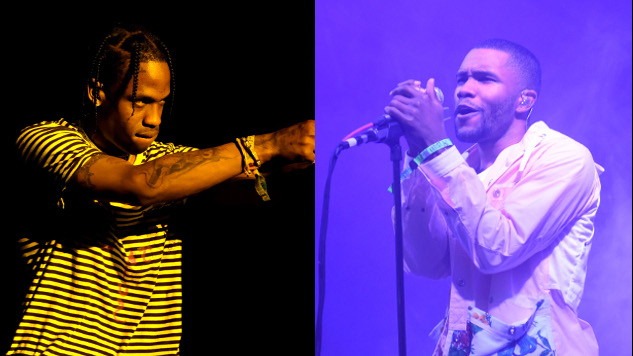 UPDATE: Frank Ocean has taken to one of his few modes of communication, Tumblr, to respond to the story. He says there was indeed a cease and desist, but it had nothing to do with the song and was resolved weeks ago. He alludes that it may have been about Amanda Lepore being removed from the cover. Check out the statement below.
I THINK THE SONG SOUNDS COOL, I DID IT IN LIKE 20 MINUTES AND THE MIX SOUNDS THE WAY TRAVIS WANTED IT TO SOUND FOR HIS RECORD. I ALSO APPROVED IT BEFORE IT CAME OUT SO THE CEASE AND DESIST WASN'T ABOUT 🔊 IT WAS ABOUT 🏳️‍🌈. ME AND TRAVIS RESOLVED IT AMONGST OURSELVES WEEKS AGO. 💖
Previous story:
Travis Scott may have scored a huge hit with his number 1 album Astroworld but Frank Ocean is unhappy about how his vocals were used on the song 'Carousel'.
According to TMZ, Frank does not not like how he sounds on the song. The singer's vocals use auto-tune on some parts while the pitch is quite clearly altered too. It is not clear at this point which part Frank is objecting to but since his requests to remove the vocals were not entertained by Travis, his lawyers have filed a cease and desist to get them removed from track. We would have to wait and see how far this battle goes.