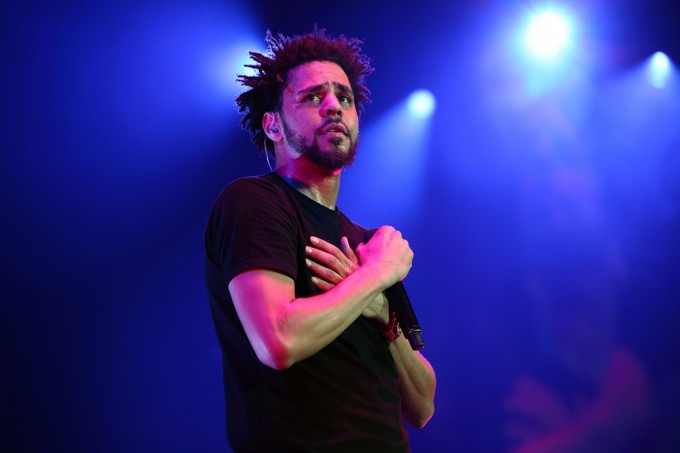 Before he became the man that he is today, you could have sworn that J. Cole was no different to your average teenager with ambition of becoming a 'somebody' in Hip-Hop. The immense success of 2014 Forest Hills Drive propelled him to a whole new level of stardom (in May, he performed to a sold out crowd of 20,000 at London's O2 Arena in sweatpants and a black tee) but there's a huge part of the story that is seldom touched upon. The story of the teenager who looked up to duo in Fayetteville by the name of Bomm Sheltuh, the music he was making with them, their influence on him, his decision to move to New York at 18 years old and more.
The story starts with Filthe Ritch and Nervous Reck who in the late 90s through to the early 00s were regarded as easily the biggest thing to come out of Fayetteville. Nerv remembers creating the name, "Me and Filthe came up with our group name while we were hanging out in the carport shed trying to dodge Hurricane Fran. We said it felt like a bomb shelter so the name Bomm Sheltuh was born". As Bomm Sheltuh, they were putting in a lot of work which was quantifying to success, so much so that they garnered the attention of a 14 year old who called himself Blaza and managed to discover the duo through his school newspaper. From there, he was persistent in hitting them up on AOL until, 5 months later, they finally replied. Filthe describes his first thoughts when interacting with Cole. "Cha-ching! (Laughs) I'm just f*cking witcha. I remember being very proud because he approached me and (Nervous Reck) saying that we were his favourite rappers and that he was inspired by us" he recalls. "I can honestly say that we looked at this like it was an honour just because he treated us like stars and we were globally local."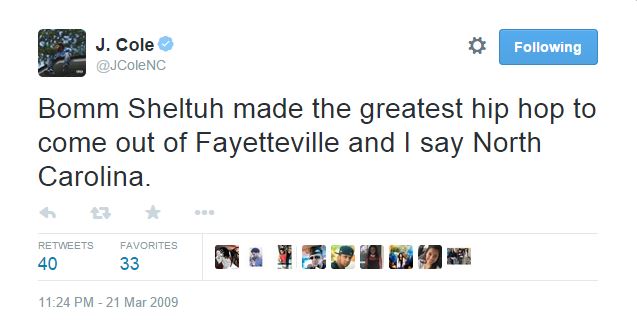 Shortly after, Cole accepted an invitation to attend one of the pair's small shows (which his mom drove him to) and he jumped on stage along with multiple older rappers during an open-mic segment. As Cole himself remembers it, he killed it and no-one's quick to disagree. From that point on, the three started to work together on material, a lot of which we're lucky to have access to today. Filthe states that "he was always a sponge" which is evident because it's at this point that Cole learnt how to produce from Nervous Reck as opposed to rapping over Nas' 'Shoot Em Up' and Missy's 'Hot Boyz' instrumentals over and over again. Here, he also started making the transition from a battle rap style to showcasing his gift for storytelling which we appreciate now. After giving him the name Therapist (a play on Canibus' artist Journalist), the trio were ready. Interestingly, a few listens to cuts from 2003 is enough to show you that Cole always had a promising future and was clearly inspired by his surroundings. What may surprise some even more though is that now, Cole is not so fond of his past material. "He says that they get him embarrassing press, if you will" Filthe says.
At the time though, nothing was stopping them. Filthe Ritch and Nervous Reck were the young stars with an even younger protégé whose future reality was to be brighter than anyone had dreamed. At this point, he'd made two appearances on a label compilation by the name of Fayettenam Bommuhs and was set to release an LP called The E.R. Modern Medicine executive-produced by Filthe before he decided to make the now famous move to NY. I ask Filthe if he thought Cole was crazy and his reply is surprisingly straightforward and puts things in perspective. "Not really. If you wanna study Islam you go to Mecca, same thing goes for Hip-Hop I guess".