The Eminem and Machine Gun Kelly beef continues to be hot debate in the world of Hip-Hop. After Eminem delivered shots on the Kamikaze album with 'Not Alike', MGK responded in an efficient manner with 'Rap Devil' which received praise from rap fans.
But just when we thought Em has gone back into a hiatus again, he came back hard with a reply called 'Killshot' which contained some scathing lines aimed at Machine Gun Kelly. Shortly after, MGK dissed the rapper on stage during a concert in Orlando, Florida and later showed off himself wearing the cover art of 'Killshot' on his T-shirt and thousands of fans behind him co-signing with their middle fingers up.
https://instagram.com/p/Bnz1w20FOeq/
"Fuck Marshall Mathers," MGK said as he opened his set. "The real Slim Shady can't stand up," he later shouted. But looks like what he flexed on Instagram only tells half of the story behind the photo which has received more than 600k likes on IG. MGK was actually an opener for Fall Out Boy's concert and according to fans online, the Bad Boy Records rapper tricked them into taking the photo in question.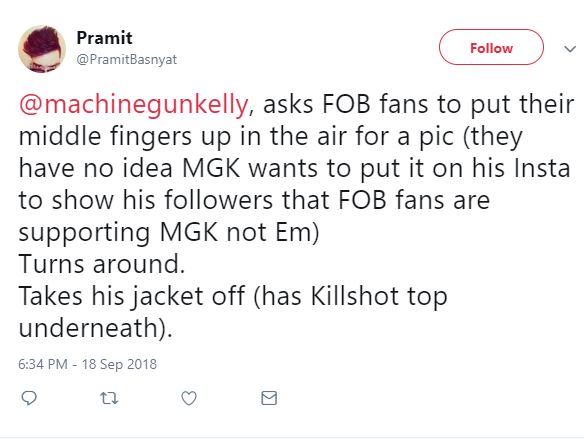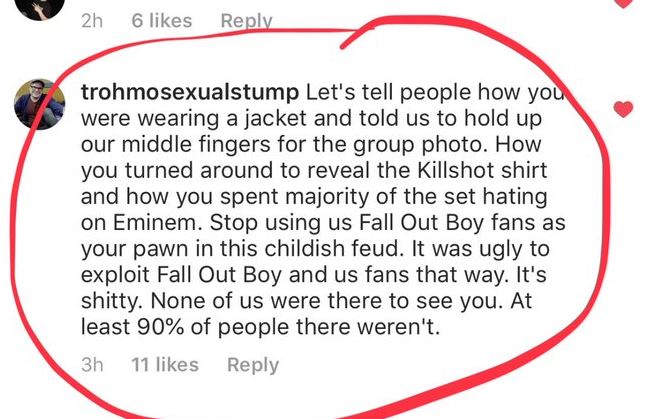 MGK reportedly asked the fans at the venue to put their middle fingers in the sky while he gets a photo taken but at the time, he was wearing a jacket on top of the "Killshot" T-shirt which he took off without facing the crowd. Once the picture was clicked (which ended up on his IG), he turned around to expose the shirt and was immediately met with crowd booing as they realized what had really happened.