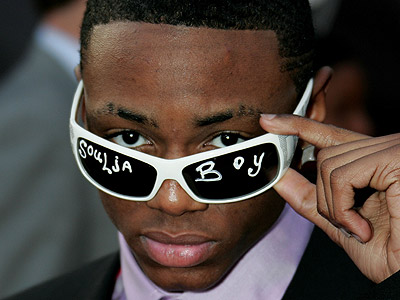 Long day today. Attended some boring lectures in the morning. Had a lousy lunch. No golf in the afternoon neither any sleep. In short, I'm pretty exhausted right now so I'm gonna keep it short and simple tonight.
Rhythmic:
T.I. rules the Rhythmic charts for the 3rd consecutive time this week with his smash song 'Dead And Gone' with T.I. But close on his

paper

trail is Soulja Boy with 'Kiss Me Thru The Phone' at No. 2 which is also the song with Most Increased Plays. He's followed by Flo Rida's 'Right Round', Keri Hilson's 'Turnin Me On' and Jamie Foxx's 'Blame It', in that order.
Other notables new tracks on Rhythmic are Yung LA's 'Ain't I' at No. 37 and Beyonce's 'Halo' at No. 39.
Back Eyed Peas' 'Boom Boom Pow' makes an entry at No. 34 as well and also earns the Most Added Song spot. Kanye West's 'Amazing' with Young Jeezy is the 2nd most added song there
Top 40:
On Top 40, Soulja boy's 'Kiss Me Thru The Phone' has the most incresed plays which now jumps to No. 15.
Asher Roth's 'I Love College' makes an entry at No. 37 while Black Eyed Peas and Jamie Foxx make entries at No. 39 and No. 40 respectively. BEP is also the most added song there.
Ciara's 'Love Sex Magic' with Justin Timberlake and Flo Rida's 'Right Round' are other tracks approaching the top 40 of Top 40.
Urban:
Jamie Foxx is No.1 on Urban for the 3rd consecutive week with Keri Hilson's 'Turnin Me On' and The-Dream's 'Rockin That Thang' trailing behind with increased plays from last week.
Rick Ross' 'Magnificent' has the most increased plays on Urban. The track is clearly picking up. Question is, everybody knows his reputation on the streets now but will that have any effect on the average listener/fan and subsequently on his music and sales?
Busta Rhymes makes an entry into the top 40 at No. 33 with his track Hustlers Anthem '09' with T-Pain. I told u earlier in my Play It On The Radio posts that the track is gonna heat up.
The-Dream's 'My Love' with Mariah Carey and Chrisette Michele's 'Epiphany' are new on the charts at No. 38 and No. 39 respectively.
Beyonce's 'Halo' is the most added song followed by Flo Rida's 'Shone' with Pleasure P and Kanye's 'Amazing' featuring Young Jeezy.
Wasn't all that short after all. But until next time, I'm gone.