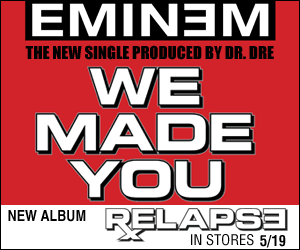 Click the image to watch the video
I'm a lil late on this PIOTR post. I wrote my first exam today. I got 4 more to go and then I'm done with School forever. Yes !
So, this post is all about Mr. Slim Shady coz he's the one making moves this week. I got a couple more news bits and I'm just gonna keep it very brief with Part 11. Just make a lil effort and hit that jump !
Eminem's new single 'We Made You' is the song with Most Increased Plays and the Most Added this week on BOTH Top 40 and Rhythmic formats.
On Rhythmic, 36 new stations and on Top 40, 52 new stations have added the song this week.
It debuts at No. 38 on Top 40 and at No. 27 on Rhythmic. Also, when I last checked, it was on No.4 on iTunes.
Other Bits:
Twista's 'Wetter' goes to Urban radio and Sean Kingston's 'Fire Burning' releases on Rhythmic radio this week.
That's all I got for you. Anticipate, till next time.