It feels like ASAP Mob has been in the news for everything except music lately. Whether it's Rocky and a new fashion endeavor that is making headlines or Bari facing backlash for an incriminating video posted online, the music has certainly become secondary for the mob of New York rappers. August is a turning of the tide of sorts for the crew as it is filled with releases from its members. Ferg is second in line a week after mob-mate Twelvyy and a week before the collective releases their second entry in the Cozy Tapes series. Ferg is coming off of a sophomore slump with his Always Strive and Prosper album. While it turned more inward and focused on Ferg's personal experiences, it failed to connect with his fan base that was built off of straight forward bangers. On his latest release Still Striving, which comes to us labeled as a mixtape, Ferg seems to return to his roots.
Still Striving grabs the mixtape aesthetic by the horns and doesn't let go for the entirety of its runtime. If people were upset that Ferg strayed from his normal sound on his last project, then he goes above and beyond making it up to them this time around. He opens the album with 'Trap and a Dream' and brings Meek Mill, no stranger to navigating an album's introduction, along for the ride. The two share a verse with a hook that booms and shakes in between. Meek Mill was born to rap on beats like this and Ferg sounds right at home as well. The album's tone remains fairly consistent from there as it transitions into a collaboration with noted influence Cam'ron. The Dipset veteran brings his usual swagger to 'Rubber Band Man'. It's another guest feature that propels the song instead of detracting from its purpose.
Ferg mentioned that what separated this project and projects in general from being mixtapes instead of albums in today's streaming climate is the process in which the project is created. He said that a mixtape for him is just him and a bunch of his friends having fun in the studio creating music without pressure. Going by that definition, Ferg succeeds and checks all of the criteria's boxes for a mixtape in the process. Speaking of friends, Ferg has a ton of them. He has a feature on almost every song on the mixtape's 14 song tracklist.
Where these collaborations hit the hardest are when Ferg collaborates with people in a similar lane as him. There are two true posse cuts that embody this on Still Striving. First is 'The Mattress', which brings along a slew of new school artists to assist in the song about the different roles a mattress has played throughout their lives. From jumping on it as a kid and humping on it as teen to stashing drugs in it as an adult, the track is a banger that will most likely be released as a single later in the albums life cycle. With Playboi Carti, ASAP Rocky, Rich the Kid and Famous Dex all making significant waves of their own right now, it would only be a logical choice to push to radio. The second posse cut features a mix of new and old and it is a New York affair at its core with a Southern twang and West coast flair added on top. Busta Rhymes, Dave East and French Montana come correct before Rick Ross and Snoop join the party and close out the track. If there's one thing that may be Ferg's biggest strength, it's putting together a great remix. His past remixes for 'Work' and 'Shabba' are rivaled here.
If the album could be critiqued for anything it would be its lack of variety. Most of the hooks are built on the same format and become extremely repetitive after multiple spins. 'Mad Man' with Playboi Carti and 'What Do You Do' with Nav are serviceable enough songs, but hardly beg any replay value due to the aforementioned repetition. The same could be said for the Famous Dex assisted 'Coach Cartier'. It doesn't help that those three songs play one after another in the projects tracklist. The album sticks to its theme and sound almost to a fault. Luckily it doesn't overstay its welcome like a lot of albums have this year. In the few moments where Ferg keeps the spotlight to himself, he shines even brighter than almost any moment from his last album. The 'Slob on My Knob' interpolating 'Plain Jane' is another surefire hit for Ferg if it gets the proper push. It's a breezy, sub 3-minute song that could live on the radio, in the club, or in the whip. He turns inward for the albums final track 'Tango'. It's a rare but welcome turn on an album that is full of mainly materialistic raps. Ferg touches on his father's death, people exploiting the death of ASAP Yams and his abandonment of the church due to touring. After being berated with 13 bangers that hardly let you breathe, 'Tango' is the perfect exhale to close out the album.
A$AP Ferg is an interesting case study of a talented rapper and underrated lyricist who is far more popular when he withholds some of that skill from the public and just has fun. Still Striving feels like not only an apology to loyal fans who hated his last album, but also like a Ferg that wanted to get back to the basics of what made him rap in the first place. This album sounds like a teenage Ferg walking down the streets of Harlem and rapping with his friends along the way. The same way Ferg treated this mixtape like a collection of songs that he made with close friends throughout the year is the same way that it should be judged. Is it an artistic masterpiece? Not in the slightest. Is it a ridiculously fun project that heats up the summer once last time before it comes to a close? Absolutely, and that's all fans of Ferg have been asking for.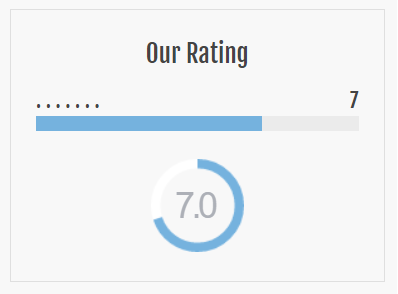 Repeatable: 'Trap and a Dream', 'Plain Jan'e, 'Tango'
Skippable: 'Coach Cartier', 'Mad Man'
By Scott Evans