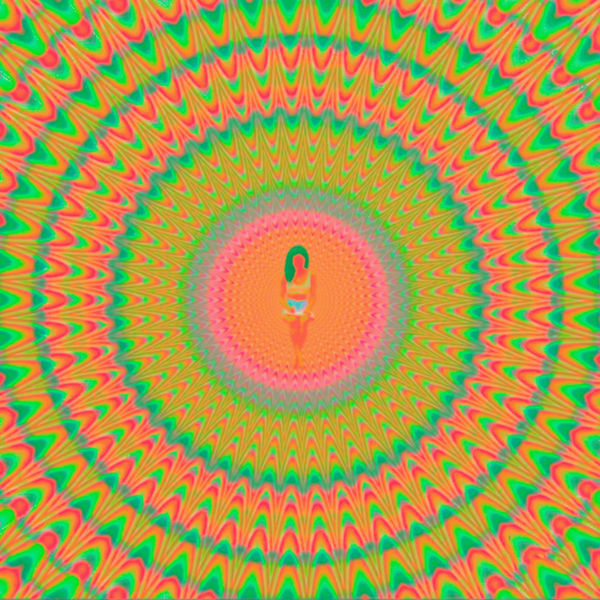 It's hard to believe that it's been three years since Jhene Aiko, the Los Angeles born R&B singer, released her debut solo LP Souled Out. In that time she's had more than a handful of features, public relationships, and even a collaboration EP with now boyfriend Big Sean. So three years it may have been, but it hasn't really felt that way. Aiko was one of the first female acts of this new generation to start the resurrection of the airy, laid back vocals of the Sades and Aaliyahs before her. Since her introduction as a featured artist on numerous TDE projects as they were on the rise, there have been countless acts that have filled the same lane that Aiko has and found success in doing so, some even more than her. Regardless, she has maintained a strong core fan base and remained a go to feature artist for rappers. With her latest effort, she has delivered a trifecta of work for her fans to consume. The surprise drop that she labeled with the acronym "MAP" stands for Movie, Album, and Poetry. She surprise delivered all of those things last week with the album part being her sophomore LP TRIP. The artwork speaks for itself as the album is supposed to represent a trip aided by the help of some hallucinogenic drugs.
--advertisement--
The first thing that listeners will notice with one glance of TRIP's tracklist is the length. At 22 songs, it runs just under an hour and a half. Although this has become a regular occurrence for artists with the rise of the streaming era, it isn't necessarily a welcome one, especially with artists whose music stays on a certain path without merging lanes very often. That's not to say that Aiko hasn't produced some compelling music, but 85 minutes asks for constant ebbs and flows for a truly successful album. She kicks things off appropriately with 'Lsd', a short almost interlude of an opener that paints the scene for what's to come. Jhene is a master of mood, and even though songs may not be the most memorable on their own, you'd be hard pressed to find a person that vehemently dislikes her music enough to object to it. The opener vividly paints a picture of someone taking the drug in question before departing on a trip.
Like any trip, the quality of it depends on who you're with a lot of times and Jhene decides to keep guests to a minimum on hers. Her love interest shows up on two consecutive tracks with 'Moments' and 'OLLA (Only Lovers Left Alive)'. They pick up right where they left off with their TWENTY88 EP, but what's here doesn't really elevate to some new level from anything that fans heard last year. Towards the end of the album's runtime, Brandy and Jhene deliver one of the albums strongest moments with 'Ascension'. It has a gentle, dreamy feel that lives up to its title and feels like floating softly through the sky during a great trip. The album peaks at an unlikely collaboration with Swae Lee, one half of the Rae Sremmurd duo. 'Sativa' is like an audio drug as it finds Swae Lee entering Jhene's world of whispering falsettos, and results in what will most likely be the album's biggest chart success. She even hinted at a collaborative project being a possibility between the two in a Zane Lowe interview recently, which could be interesting to hear based on this sample.
Where the album is at its best is when the instrumentation falls in line with Jhene's voice and swagger. When she connects those dots, she creates a groove that won't let up. One example is the sparse 'New Balance'. Aiko's voice has been described by many as soothing, relaxing or smooth, but backed by just a piano; elegant seems like a more appropriate word to use here. The melodies are wonderful as well as it all culminates nicely with drums kicking in after about two and a half minutes of just her and the piano. She finds a similar groove on 'Never Call Me' which is another strong single candidate. Actual single and standout 'While We're Young' is classic Jhene, but with quite a bit more pop sensibility added to it. Backed by one of the better videos of the year, how this song hasn't gained more traction than it currently has seems like a travesty. Maybe with the release of the album it will gain more steam. Throughout the album Jhene has tracks that she lists as "freestyles". Most of them end up playing out as full songs, so their meaning could be deeper than just messing around in the studio. 'Picture Perfect' is one of these "freestyles" and probably the most stripped down moment of the entire TRIP. Her voice is the highlight as it sounds more raw and front and center than it usually does. The vulnerability is permeable on tracks like this.
Towards the end of the album, Jhene has a moment of reflection. On 'Frequency', her voice sounds more assured than ever before. Not to say that she hides behind the beat, but she is more known for creating mood than making herself the focus of songs. She seems like she's had a moment of realization almost as if some profound experience occurred on her acid trip and she is looking at life in a whole new light. She sounds thankful for what she has and strives to do better. It is one of the rare moments of a song really standing out from the rest on the project. This brings up the biggest issue with TRIP: Redundancy. There are so many great things about the music Jhene Aiko makes, but none of them warrant a 22 track album to be effective. After repeated listens of the album, the songs named in this review were the only ones that even begged me to pull my phone out of my pocket to see which song was playing. Her style of singing doesn't require attentiveness or the lyrics paying attention to. Most of the songs here just sort of bleed into one another like those "relaxing" or "chill" playlists on Spotify and Apple Music. If an album that you can put on in the background and smoke without any interruptions is what you're looking for, TRIP is your album. If you're looking for something a little more concise and memorable in such a crowded landscape of R&B, this will probably sound like songs you've heard a hundred times over. Consistency is both Jhene's biggest strength and greatest downfall.
Repeatable: 'While We're Young', New Balance', 'Sativa' (feat. Swae Lee), 'Frequency',  'Ascension' (feat. Brandy)
Skippable: 'Oblivion', Psilocybin'
By Scott Evans