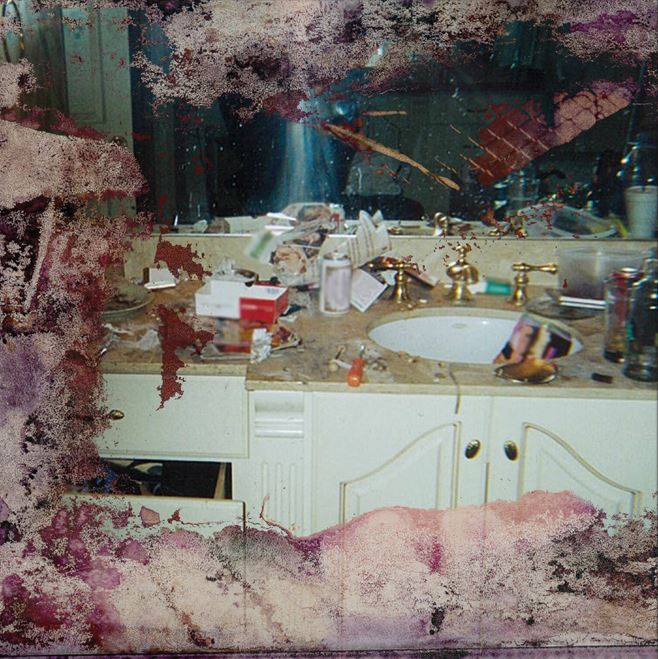 It's been a long time coming for Pusha T. In his successful turn from one half of Clipse to solo act, he has produced two impressive efforts thus far. It's been nearly three years since his prequel to his once titled King Push album was released and fans have been left clamoring for any news of a release date. Finally the silence was broken in the middle of April when Kanye released a spree of tweets with release dates for a slew of albums from the G.O.O.D Music roster. Kicking off the releases? None other than the labels' president and resident drug rap aficionado Pusha T. The 'King Push' title is a thing of the past and is instead replaced by Daytona. It stays true to Kanye's Twitter word about all of these albums running a short seven songs in length. An album that brief is a double edged sword. On the one hand, it is a breath of fresh air in a climate full of overlong albums looking to capitalize on the streaming era's sales rules. On the other, it means that there is far less room for error, but based on listening party reactions and Pusha's confidence leading up to the release, he seems more than up to the task. Fans who wondered what an entirely Kanye produced Pusha T album would sound like, can wonder no more. Daytona has arrived.
WHAT'S DOPE
No Filler. The lyrics. The production. The replay value.
The first impression that you'll probably walk away with after your first listen through of Daytona is just how brisk of a listen it is. The album has come to an end before you can even think about what you just listened to. Only after multiple spins do the extra layers and depth begin to reveal themselves. One of first things that jumps out is that, like him or not, Kanye has not lost a step as a producer. The soundscape that he lays here for Pusha is appropriately grimey and dark with just enough soul to break up those elements when necessary. Take 'Hard Piano' for example; It lives up to its name in every way that you'd expect and has Rick Ross riding shotgun, yielding stellar results. Ross and Pusha have collaborated in the past and 'Piano' is another solid effort to add to their resume.
With an album that runs only seven songs and just over twenty minutes, intricate details, good or bad, start to reveal themselves with each passing listen. Luckily with Daytona, flaws are kept to a minimum. When one of the biggest criticisms of an album is that it leaves you wanting more, you can rest assured that you have created something special. The replay value is nearly endless with this album as well. From the sample on 'Come Back Baby' to the screeching boom bap of 'The Games We Play', Pusha doesn't waste a single beat or bar throughout the album's runtime. The songs that make up Daytona don't seem worried about creating a hit or traditional song structure, and instead opt for a more free flowing one. This is to the album's benefit as it keeps listeners on their toes and has songs that seem to be developing and creating in real time.
'Santeria' embodies this loose structure with its vocal sample, semi-hook and beat breakdown towards the end. Pusha never trips during any of these developments as his rapping and lyrics are as sharp as they've ever been, if not sharper. In fact, one of the biggest takeaways from this album is that Pusha is almost getting better with age. He has always been regarded as a top tier lyricist, but he seems to be overlooked in some conversations. This is the project that should start to change that. He grabs listeners by the throat from the opening notes of 'If You Know You Know' and doesn't let go of his stranglehold until the closer 'Infrared' fades out. The closer shows a rapper that is not afraid to name names and definitely not one to shy away from confrontation. Whether the rappers mentioned will decide to respond is up in the air, but Pusha has shown that he doesn't ignore jabs thrown his way.
WHAT'S NOT
Leaves you wanting more. Distractions
Daytona is an album that is hard to critique. With something so concise and well thought out, Pusha was self aware of the fact that he had very little room for error. Him and Kanye decided to trim the fat and give listeners an album that sounds better with each consecutive listen. You can't help but walk away feeling just a little bit disappointed that after three years this release only consisted of seven songs, but at the same time it is a bold move that works. Listeners can't have it both ways, because no matter what, someone is going to complain. It is incredibly difficult to make everyone happy in today's music landscape, so maybe leaving fans wanting more is exactly what Pusha set out to do.
One other issue that could be brought up about Daytona is the distractions surrounding the album and its release. For example, the Drake diss on 'Infrared' will make all of the headlines, but in reality it ends up taking away from a project that is hyper focused in its message and commitment to consistency. The response also comes after the dust has somewhat settled on the situation. Reigniting the beef at this point feels a little untimely. The same can be said for the album art, which features the infamous tabloid photo of the hotel room of Whitney Houston's. Despite the controversy surrounding the usage of the image itself, there is also the added headline that Kanye reportedly paid 85k to license the artwork. Although the cover is great, it all combines to create a side-show that wasn't necessary considering how great a body of work Daytona is. It must be reiterated that these gripes don't change the quality of the music, just distract from it being the focus. Once the initial hoopla passes, the music will once again take the forefront, and rightfully so.
VERDICT
Daytona is everything a fan could want from a new Pusha T album. It has infinite lyrics to dissect, brooding beats, and Pusha's signature flow. It's nice that fans no longer have to dream about what a Kanye produced Pusha album would sound like. It lives up to the expectations and then some. Creating an album that runs only twenty minutes is risky, but the intent becomes clear after multiple listens. This short album trend that Pusha has kicked off for his G.O.O.D. Music label's run of albums is a tactic to cater to the attention deficit generation of music that we are in today. Something so short and precise is impossible to ignore. In a world where blockbuster albums release and are forgotten on what seems like a weekly basis, Pusha T has created an album that will stand the test of time.
Repeat: All
Skip: None
By Scott Evans